2021 DATES 
April 24-25 (26 optional)  – May 13-14(15 optional) – June 12-13(14 optional) – July 3-4(5 optional) – .  Get some information for our future women only WE SIGN UP 
You :  You are a woman who already practices enduro mountain biking. You are willng to improve your skills and see your self-confidence as a MTB singletrack rider raise. Your skills level: you can ride all types of single trails which are flowy but you are losing your confidence as soon as it gets steeper or when the switch backs are showing up or when the single track gets more technical. You don't really know how to place your body and how to brake. You don't really figure out which technique to apply where. You would like to gain in speed and confidence. You would like to share time with others women who ride like you and see the number of your female MTB friends get higher. This following experience is for you.
What we offer :
A 2 days MTB experience dedicated to women extendable to 3 days on demand around Bas-Valais and Chablais
A good balance between skills training, enduro riding (mainly using shuttles up) and chill time (yes, we can stop for coffees)
Coaching and guiding by experienced female Swiss cycling MTB guides and instructors
A highly qualitative and personal coaching: max 4 participants per guide.
The discovery of a region with 100% local guides.
The opportunity to share good time on and off the bikes. SIGN UP 
Where : Our MTB guided rides and skills development workshops will take place in the beautiful Rhône valley between Chablais and Bas Valais, a region that offers among the best and most diverse MTB riding of Switzerland. Numerous trains, cable cars and postal buses connect to the start of our rides or our resorts. Our base camp will be in Branson Fully in the beautiful family owned Guesthouse L'Erable Rouge situated at the top of the village right under one of the oldest Chataigneraie of Romandie and in the middle of the vineyards. It's an old attic that was rebuilt with taste and charm.
Program :
Night before Day 1:  17:00- 20:00 Arrival of all participants at the B&B.
20:00 Welcome dinner
DAY 1
8:15-9:15 Breakfast
9:30 Start of the MTB skills morning. Riders and bikes check: which tires pressure, how to check my brake pads, is my cockpit well set up, what about my suspensions?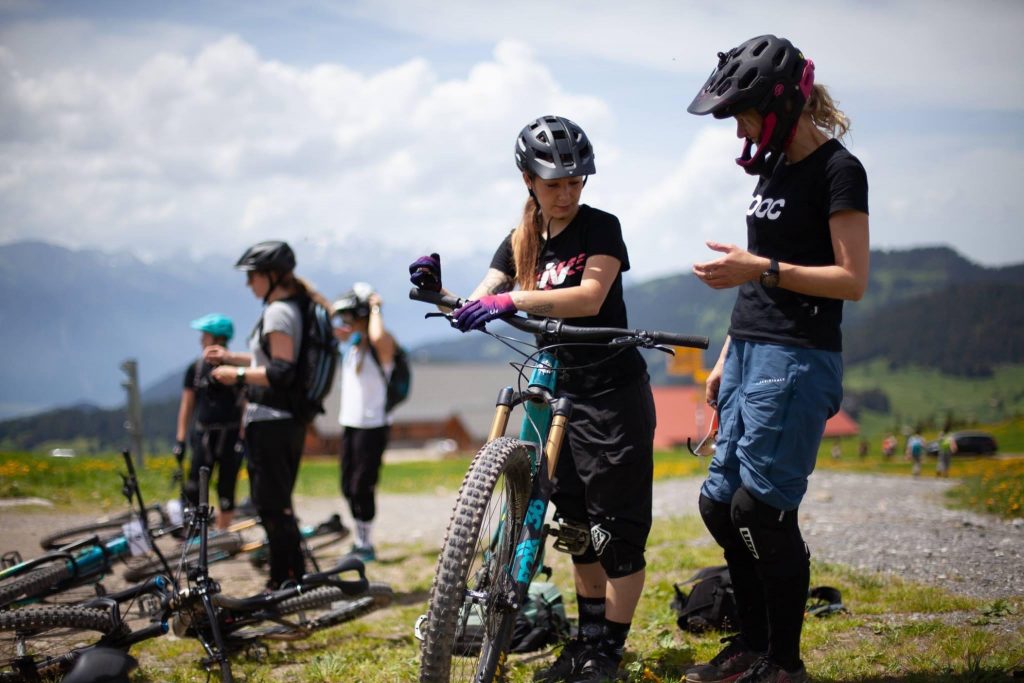 10:00- 13:00 Skills development workshops Martigny pump track. Braking/ go over obstacles/ pumping/ small jumps/ cornering followed by lunch in a local tea room.
14:00-17:00 Let's go riding:  Flow trail riding around Fully Martigny using 1 or 2 public shuttle bus.
18:00 After ride chill time. Let's go check our local products.
20:00 Homemade dinner at the guesthouse
DAY 2
8:30 Breakfast  
9:30-16:00 Let's go shredding! Today the objective is to do multiple shuttling using train or bike park lifts and implement our new skills on the trails. We may have 1-2 extra skills workshop as we ride. We would also like to double some of the runs as it is the best way to improve speed and confidence. We leave the destination open as it will be chosen depending on the weather/ time of the year and what type of riding we are seeking for. It could be Verbier/Leysin/Villars among others, we have so many options. Lunch and coffee stops are part of the planning as well of course.
16:00 : After ride chill time, experience feedback. Bye bye if you leave us.
19:30 Dinner
DAY 3
8:30  Breakfast
9:30 Let's go on a day long adventure. Today we will do one of our classical enduro day tour. Once again, we leave the destination open as our region offers so many options: Portail de Fully/ Emosson/ Morcles/ Col de Mille. Do a classic means 1 shuttle followed by a mixt of pedal and hike and bike to get to the very top of a descend that is usually longer than -1400m. It also means a bit of adventure, amazing views, and a lot of terrain diversity from alpine to loamy forest as we drop back down to the Rhône valley.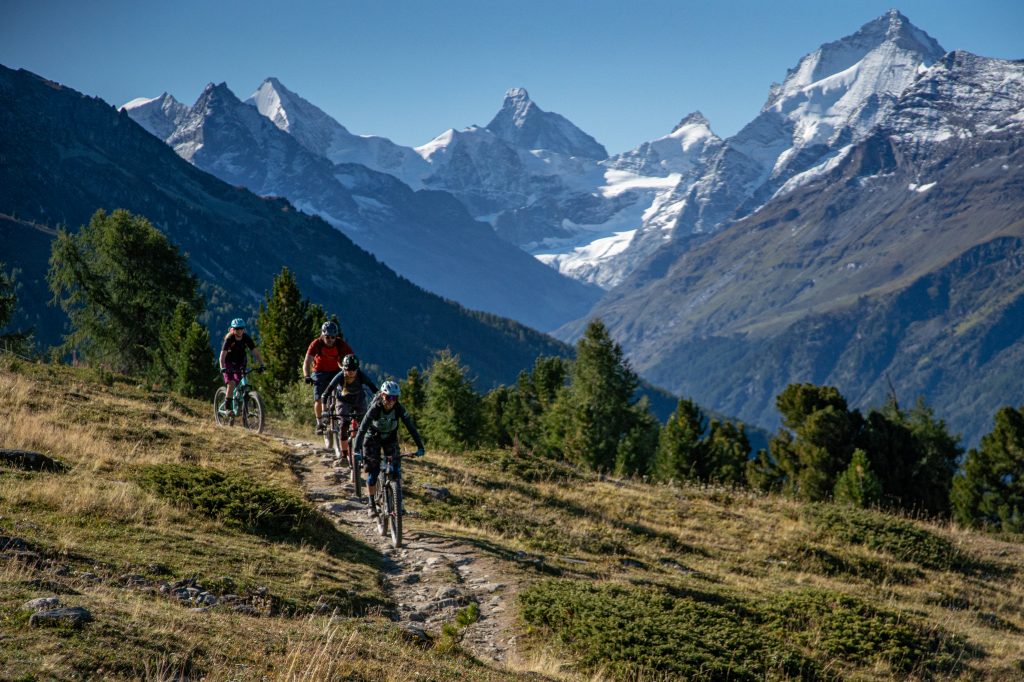 Your MTB mentors
Myriam Saugy:
Founder of GUIDEDBYWOMEN.BIKE Myriam has been a full time MTB guide in the summer since 2016. She is a certified Swiss Cycling MTB/eMTB guide and instructor. Since 2019, she has also been in charge of the instruction in French of new Swiss cycling MTB guides. She used to be a pro racer in XC marathon before she converted to enduro riding in 2009. She loves MTB adventures and tries to live multiple days MTB experiences around the world when she doesn't guide herself in her home base Valais in the Swiss Alps. Her motto is keep progressing. Now in her fourties she applies it for herself as a rider and is the happiest woman when she sees her trainees or customers gaining confidence on their mountain bikes.  Trademark: always the smile.
Sidonie Jolidon :
The life of Sidonie spins around mountain biking. She is a certified Swiss Cycling MTB guide and instructor. As such she likes to coach women in priority. She has been competiting XC as a teenager before she embraced downhill (DH). After a break she is now racing enduro. Winner of the enduro helvetic cup in 2019, she is now aiming to settle a spot among the 20 first women in the enduro world serie(EWS). She also works part time in bicycle shop all year round. This very skilled rider is doubled with a heartful and compassionate personnality. She is also willing to spend more time coaching and share her passion for mountain biking on the terrain on the side of her competition season. She is a big air woman and the one to hire to embrace jump skills among others.  Trademark: Full of joy
Chloé Weber:
Chloé has been a passionate enduro rider since 2014 and is Myriam's life partner. Together they founded saugyperformance.ch to offer a full support to people who practice sports especially in the outdoors. Chloé is the therapist of the team. She counts now over 20 years of experience as a sport physio and is a certified osteopath since 2017. As a MTB mentor, she will come with the group and give her input as a quite new rider. As such she knows exactly the feelings that you sometimes may face and give you the tips she has been using to progress herself.  She is also a gear geek and the one who will find exactly what you need and where. She will follow Swiss cycling Guide Instructor course in 2021. Trademark: super passionate
Pricing : 
2 days experience 450.- pp
3 days experience 660.-pp
What is included?
A professional MTB enduro guiding and instructing. Max 4 participants per guide.
Your nights, breakfasts and dinners at the Erable Rouge
All the logistic around the rides and the choice of the ones that will perfectly suit our crew
The sharing of our experience, knowledge of the region and of MTB gear
What is not included?
All the transports that we will be using during the camp
The lunches and coffees taken during the day
Alcoholic beverage